The Village of Hope started as a concept in 2013 when a group of 97 people attending a mission trip in Haiti prayed on the land that the administrator and father of our children owned. Two of those people were my daughters. My daughter, Ami, being a designer and subsequently a Board Member of our Foundation drew a sketch you will see below. The Village of Hope is a multi dimensional model of living to help curtail poverty. The Village of Hope will house, educational and vocational facilities designed to empower youth. It's based on the vitalistic principle of honoring ourselves, our land and each other. The Village will also include businesses to help the children of the orphanage, as well as other members of the community to become self sustainable.
From 2013 till present we have constructed an orphanage for housing 29 orphans, an auto parts/repair shop, a birthing center with three midwives, a sewing center where are children make their own school uniforms and a computer lab. These structures as well as a large Gazebo and a kitchen building with apartments are all on the Ouanaminthe campus. The auto parts store solely at the moment is profitable. Our sister organization, Mission Life International, raised funding, particularly from Life University, to construct the Birthing Center, the gazebo and the kitchen. Thank you President of Life Mission Life International, Dr. Peter Morgan.
With the help of donations we also built a church /school which educate an additional 140 orphans and underprivileged children in the neighboring town of Malfety. As the government does not provide electricity in most of Haiti solar power will provide an essential commodity that we in the United States take for granted. Both campuses require electric for daily life and for educational purposes as well as religious teachings. The businesses also require electrical power. Presently, we have enough solar for the orphanage, the birthing center and the auto parts/repair shop. The Foundation will continue its fundraising efforts until a solar system is installed in both our projects in Ouanaminthe and Malfety.
If you have donated in the past we thank you for your generosity, your donation will help the lives of many deserving children. If you have not donated, please consider helping our mission to create a model, the Village of Hope to share with other communities to create a self sustainable Haitian nation.
Dr. Steve and Germania with the children at early stages of construction of the orphanage

The Orphanage That Houses 29 Children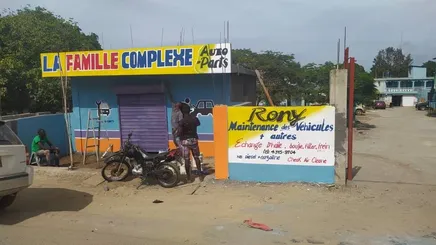 Auto parts/repair shop

The Birthing Center

The Sewing Center and Computer Learning Lab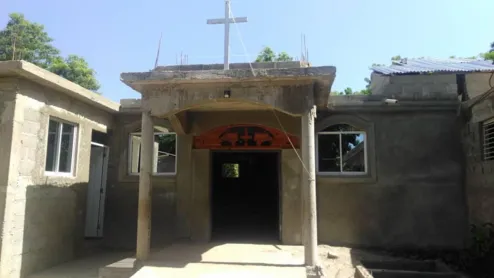 Malfety Church/School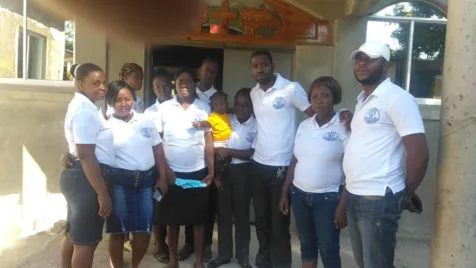 Staff of School with Paster Prosper

Paster Prosper
Dr. Steve serving some coconut at the school
The children at Malfety school saying hello!
Original sketch of the Village of Hope